Hi folks!
In 2011 I opened a thread at Aeroscale where I show continuously my latest aircraft models. As I have recently also started to build military vehicles I thought why not open also a similar thread over here at Amorama. I'm mostly interested in the equipment of the Bundeswehr (Germany Army) and would like to share my models with you. So today I can present you my new KPz Leopard 2A6M from Revell in 1/35, my second military vehicle ever ....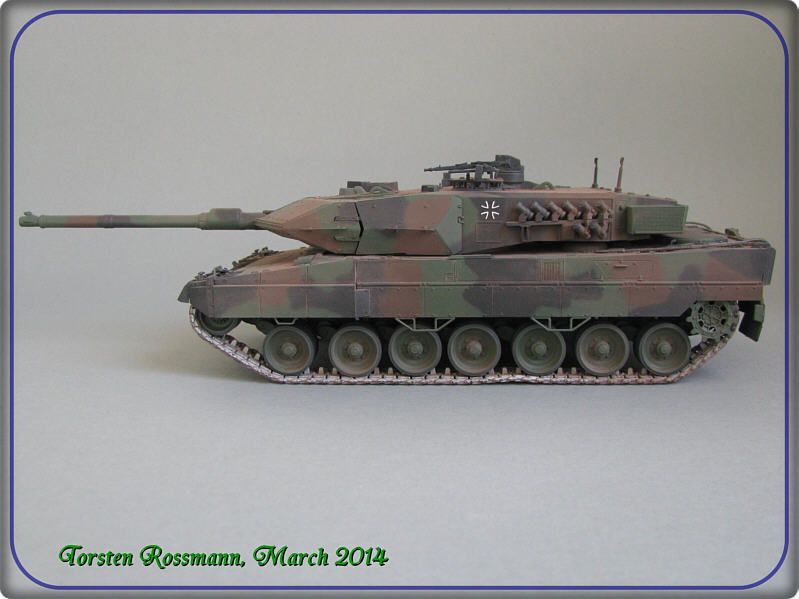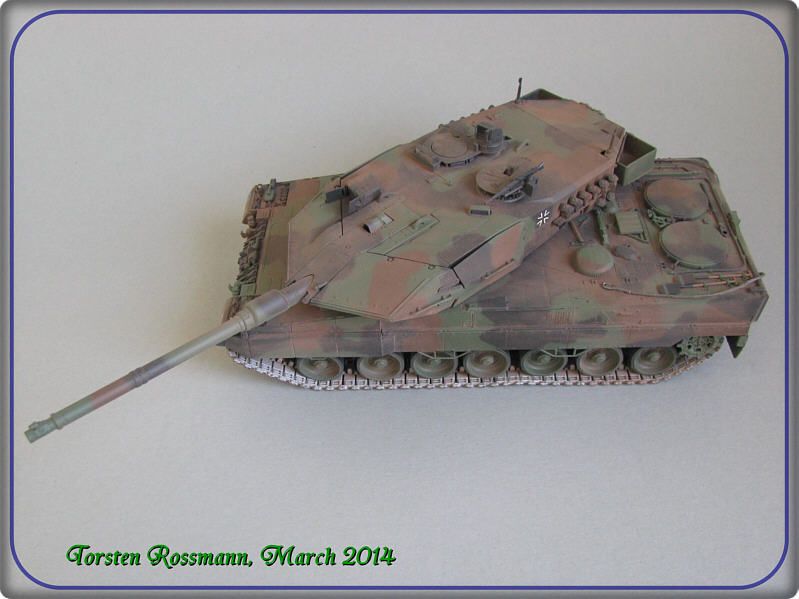 .... from 2001 the Bundeswehr was replacing their Leopard 2A5 with the 2A6, which had the new L55 gun, which is 1,30 meters longer than the older L44 gun. In combination with new ammunition this tank can be regarded as one of the most powerful in the world. Only 3 years later, the first Leopard 2A6M with improved anti mine protection was delivered to the Bundeswehr. Of 225 Leopard 2A6, 70 received this additional protection. The Canadian Leopards 2 in Afghanistan are all 2A6M. The tank is powered by a 47000 cc, 12 cylinder MTU engine with 1500 hp which gives the Leopard a maximum speed of over 70 km/h. The weight of the tank is 65 tons, which includes the 6 tons heavy engine ....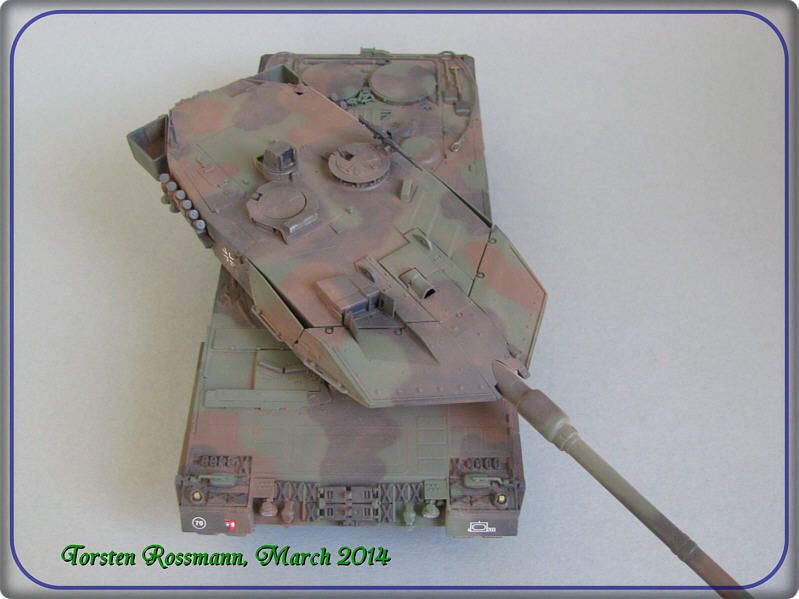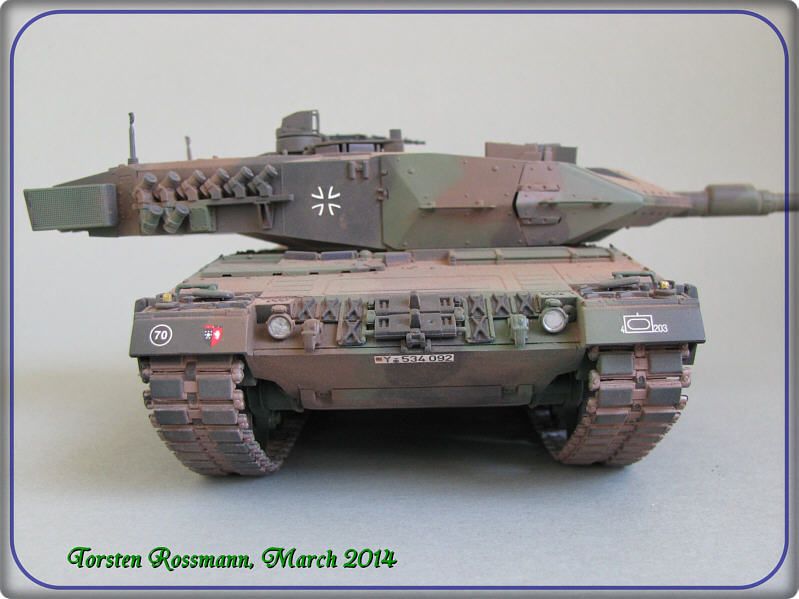 .... the Revell kit consists of about 220 parts and offers 4 decal options, 2 with and 2 without anti mine armor. I decided for a Leopard 2A6M of the 4./PzBtl 203. The kit goes together very well and has no fitting issues unlike the one from Hobbyboss. The tracks and the dirt fenders on the backside are made of rubber. It comes without PE-parts but on the other hand is twice as expensive as the Hobbyboss kit. But I would prefer the Revell kit again, as I did already ....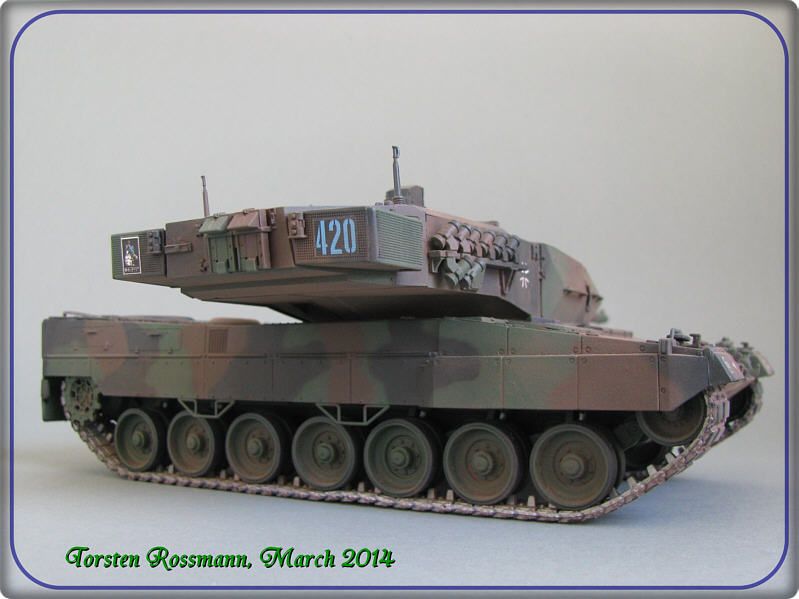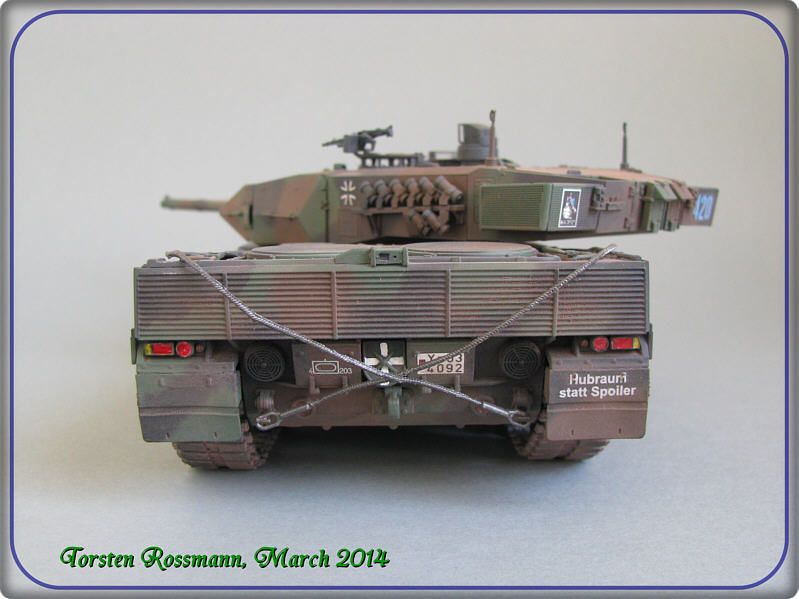 .... I have painted the whole kit with Revell Aqua Colors in NATO standard camouflage which is Bronce Green 65, Tar Black 6 and Leather Brown 84. Final coating was made with Matt Varnish 70520 from Vallejo. The kit is completly build out of box. The only thing I want to add later are antennas and a small flag. Though I'm no fan (and no expert) of weathering I used some pastel chalk of different colours to give my Leo a slight dusty look ....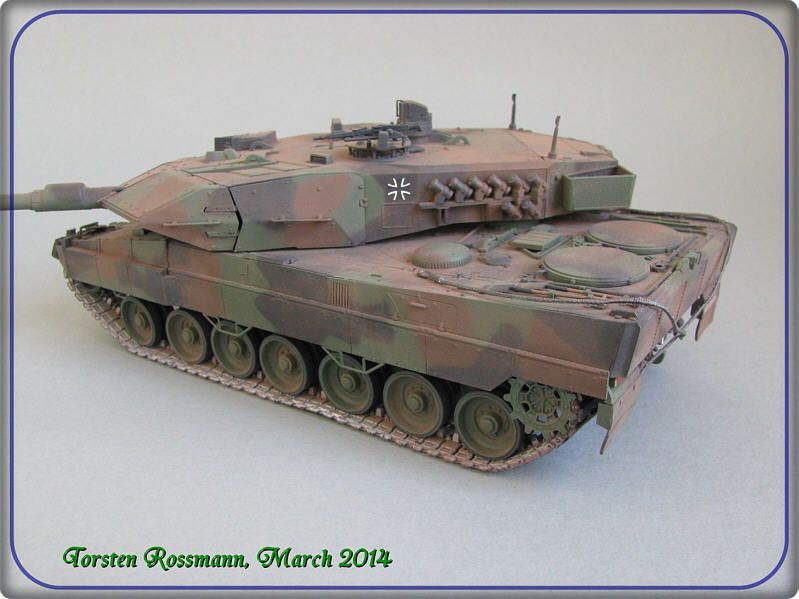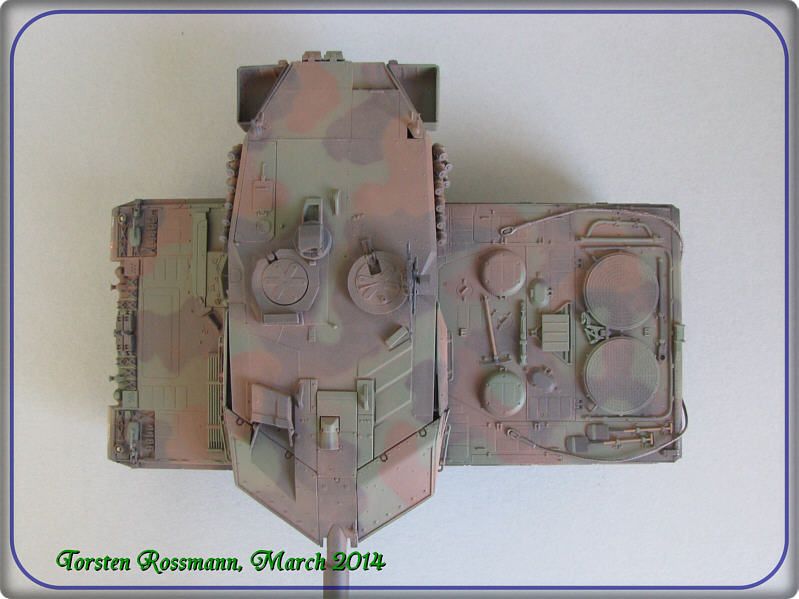 .... I say "Vielen Dank" for walking around my new Leo and hope you have enjoyed it. Though I mainly build aircraft I want to finish 2-3 military vehicles per year and will continue to show the results here in this thread. Mostly Bundeswehr but also some of our NATO partners. And if you also like the sound of the Leo, then enjoy
this
. The real party starts at about 2:30 mins.
Happy modelling
Torsten
PS: If you wonder why I call this thread "zoo", well, that's easy to explain. Most vehicles of the Bundeswehr have animal names. Leopard, Marder, Fuchs, Luchs, Dingo ....